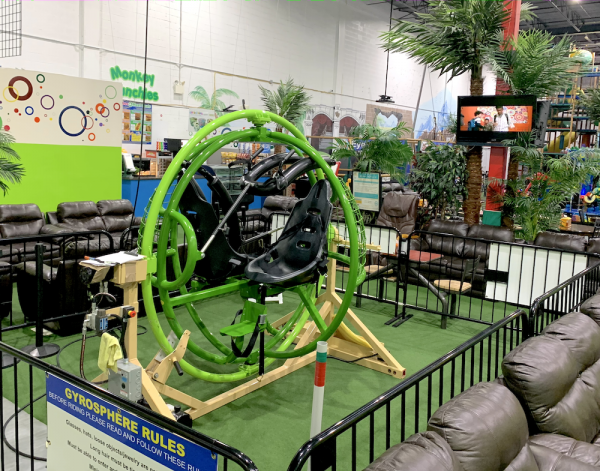 Looking to try something new.  Lil' Monkeys Gyro extreme may be for you.  The Gyro Extreme is a two person sit down, hydraulic powered, human gyroscope TSSA certified amusement ride.  This is the same one as used in NASA's Kennedy space center, and by the United States Air Force.  The motion of both rings spinning with the riders in the middle gives the riders the experience of a roll and tumble ride and experience the feeling of weightlessness.  Our certified operator will first make sure the guest meets the minimum height requirements to safely use the ride then ensure that the rider is safely fastened into the seat.  After that the ride begins and is controlled at all times by our operator for maximum safety.  The ride lasts approximately 70 seconds but feels much longer.
Come and check out this very rare ride experience!
The gyro does is included with regular admission and operates on weekends, March break, Christmas Break, select statutory holidays and school closures.
There is a minimum height required of 44 inches to utilize the ride.
Parents can participate as well as kids as long as all the riders meet safety requirements of the ride.