About Us
At Lil' Monkeys we wanted to create a meeting place for families and friends focusing on play, movement, and independence. It is more relevant than ever now, that children are moving too little today. As a proud member of the Halton/Hamilton community for over 13 years, our company has seen success through our strong concept of play and movement for the whole family with safety, cleanliness, and service always being our top priority.
We have a unique place where parents can come and enjoy a comfortable atmosphere while their children play freely in a clean, safe and age-appropriate playground that is not only designed for kids but also designed with the parents in mind.  From the numerous seating options throughout the facility, complimentary coffee and tea (yearly members only), secure wristband policy, high-speed wifi and numerous Bistro options for lunch or dinner you may lose track of time before you know it. With over 16,000 sq feet of play space, party rooms, redemption center, bungee trampoline, and many other activities there is something for the whole family.
At Lil' Monkeys we are always looking for new and exciting attractions to bring to the community and as a result of this we are always introducing new additions to the facility.
We also strongly believe in being a part of our community.  Over the years we have supported charities, fundraisers, silent auctions, schools, church groups, sports teams and so many more.  Many of these are proudly plaque mounted throughout the facility. To date, we have donated over $40,000 back into the community. Many of our current staff grew up in the local area, played on these very teams or attended these schools and now have come full circle be part of our team and support the next generation of kids experiencing the same clubs, schools, teams and churches that they, not so long ago, were a part of themselves. 
Hope to see you soon!
Our People
Our People
At Lil' Monkeys we believe that a great team that works well together and respects one another will create a work environment that is fun and exciting which will then transfer through to the customer experience. We put a lot of time into training our team to ensure they understand the high standards and level of service our customers expect. Many of our staff grew up coming to Lil' Monkeys and have returned to be a part of the team. On the flip side, many of our previous staff have moved on to start their own families and still come back to say hi and introduce us to the young ones that they now bring in to experience the playground. We take great pride when previous team members come in and tell us that Lil' Monkeys was their favourite job and a lasting memory.
Our Passion
Our Promise
For us at Lil' Monkeys, our passion comes from seeing how happy children are when they get to run, play, climb, and experience the independence of exploring the whole facility.  Research suggests that motor skill development, physical development, and exercise are all benefits of kids moving and playing. Children simply need to move, and we love watching them do exactly that at Lil' Monkeys! We are also passionate about bringing families, friends and loved ones together through the act of exploration and play. Our facility allows the whole family to play together and that brings the smiles and laughter that fills our facility daily.
Meet Our Team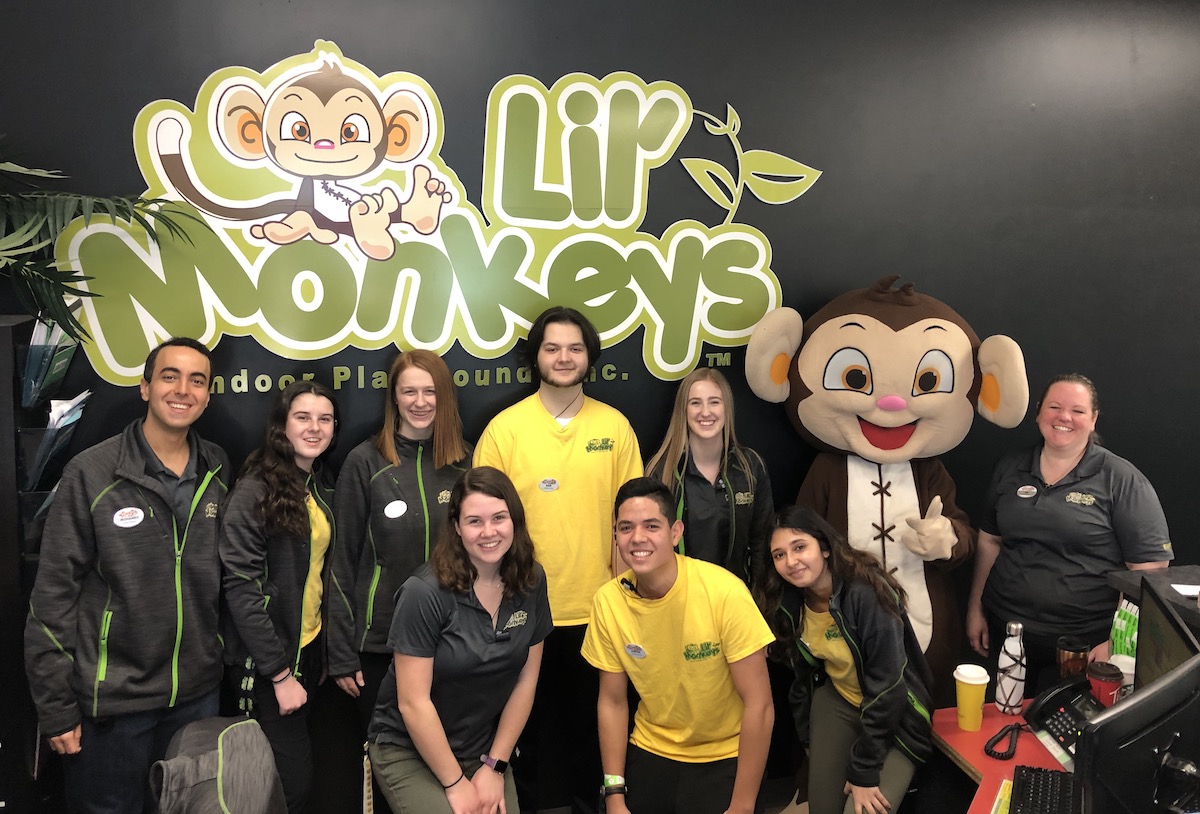 Join our MonkeyMail
Get insider info about our exclusive parties, events, and special holiday promotions.