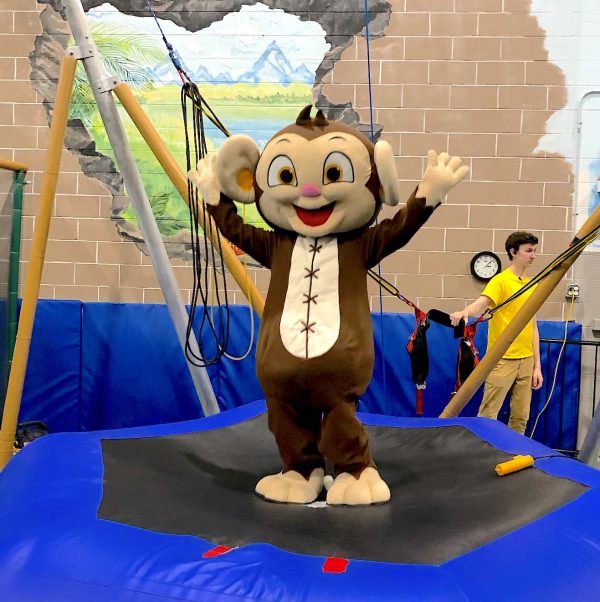 Lil Monkeys Bungee Trampoline is our newest attraction. Trampoline parks have been popping up everywhere in the last couple of years and they do appear to be a lot of fun at first glance but they have a dirty little secret. They are incredibly dangerous at times and are full of risks form overcrowding to inexperienced jumpers putting others in danger causing the chance of injuries to skyrocket. With Lil' Monkeys Bungee Trampoline, which is supervised by a certifies operator at all times, our guests get to experience the high flying fun of a trampoline with the risk and danger taken out of the equation completely.
Our guest is first weighed to confirm they meet our strict safety guidelines then centered on our inflatable trampoline where they are secured in a custom, adjustable, padded harness by a certified operator. Once secure they receive a few, simple to follow, instructions before the operator starts the ride. The combination of our uniquely formulated bungee cords and our electric winch allows the jumper to catapult up to 20 feet in the air in a completely safe and controlled environment! The combination of cords and winch lift enhances the guests own jump ability to reach heights that would not be normally achievable.
The entire ride is a completely smooth experience due to the combination of the bungee cords elasticity that were carefully chosen to match the weight of the participant and the operators control of the ride to ensure the rider is never jumping beyond their abilities.
We can't wait for you to come and try it out.
All riders must be a minimum 30 lbs and not more than 200. They must be able to understand simple instructions given in English and under the age of 12.
The Bungee Trampoline is available Monday to Friday from 4:30 pm till 8:00 pm and on weekends. The line cuts off one hour before the end of our business day.
Christmas Break, March Break and Family day the Bungee Trampoline is available every day all day. The line cuts off one hour before the end of our business day.
Some stat days, PD days, strike days and school holidays it may be available but not guaranteed. Please call ahead for more information.
The Bungee Trampoline requires a purchased ticket to access. They can be purchased at any point of sale station and cost $3.00 for one jump or 2 jumps for $5.00. These tickets do not expire and can be saved for another visit. Please join our email list to hear about upcoming Bungee specials and free Bungee days!